The German legal system is in comparison to the American legal system far worse in particular when it comes to compensation money. The medical industry complex has full control over judges and lawyers and the media.
In 2016 the American court awarded to a family $11.900.000 for an antidepressant induced suicide, 2017 in a similar case $3.000.000. In Germany you wouldn't get a penny. Everyone's telling me suing doctors is an exercise in futility.
Once I recovered by myself I announced I would seek justice in court, my social welfare was immediately cut off. The same state authorities later replied to my law suit draft and rejected any responsibility and suggested I was mentally sick (there was a psychiatric assessment from 2017, after I went around talking about a crime and calling my psychiatrists psychopaths. They were trying to lock me in again, but the judge decided I was mentally sane).
At first I didn't manage to find a lawyer, then a lawyer (coincidently with connections to CCHR, they later defended him, he was not corrupt, just defeatistic) agreed to take my case. He only tried to dissuade me, he didn't make any effort, gave me false information (e.g. saying only the state can be held responsible, not the psychiatry) and finally at the end the year short of the deadlines said he actually had no capacities.
I had to write four lawsuit drafts myself and apply for financial aid. The first three applications were denied on ridiculous grounds concerning my financial situation, it was obvious corruption. I was helpless without help of a lawyer, even for pay no one would take the mandate.
I wrote an impulsive letter to the court announcing I would go on a public hunger strike if they denied me justice.
The first agent sent to me was a (supposed) whistleblower surgeon (from the Charité hospital). We had a long talk, he ranted about his colleagues. He claimed to be an original true Christian, it was not very believable. He told me hunger strikes were never successful.
In May 2019 I went the first time on a public hunger strike. In the first days the police tried to intimidate me by threatening they were coming with a physician who would decide if my protest would be ended by force. I weighed 30 kg more and knew this was a ridiculous empty threat, I was far from being in life danger.
I sat in a very public spot close to the Charité. Four nights I slept right at the main entrance to the hospital, they didn't dare do anything about it. The hospital stuff were ordered to take a detour and not to talk to me. Not many people talked to me. On the 4th day a news reporter came to interview me. It turned out to be a hitpiece that portrayed me as an (eating disordered) suicidal attention-seeker, an Incel who was angry women never paid attention to him. Nothing about the medical crimes.+
On the 6th day a girl talked to me, later I realized she was paid, too. She told me her name, I found she had an entry as an actress. She was instructed to tell me I could eat in secret and then that people would think I'm anorexic. They knew this is my vulnerable spot, I hate being called an anorexic. At night someone put a vegetarian gourmet pizza next to my sleeping place (where we met the first time) to tempt me. I didn't touch it.
Later only CCHR being weaponized by the system managed to persuade me to end my hunger strike by false promises and deception.
A month later at my second public hunger strike I was more forward, paying my psychiatry a visit, distributing some flyers and information about psychiatric drugs among patients, then putting up my banner on the sidewalk in front the main entry. Soon a police team arrived. The clinic charged me with trespassing, claiming I had entered patients' rooms. I could prove this a lie by showing the officer a video. I said I would sue the clinic with libel for this defamation attempt.
An hour later a second police team arrived and hat a longer talk with the clinic staff. I got the impression they were being instructed. Then they ordered me to leave, taking my legal right for protest.
A month later after my time with CCHR in Vienna and Munich, I intentionally trespassed putting up my protest banner on the clinic property in front of the entry. This time a head psychiatrist came and was overly friendly and asked me to leave the private property. I didn't, I actually had to insist on them calling the police and charging me.
In August I returned with a friend to my psychiatry meaning to talk to my doctors. Half an hour later a whole police swat arrived, yelled at us, threw us to the ground and lead us outside in handcuffs. This was more upsetting to the hospital staff and patients than to us.
The next day my friend was violently beaten up for no reason. I'm pretty sure this was an act of revenge and a warning sign for me, what those psychopaths are capable of.
When it became obvious that the lawyer given to me by CCHR was ordered not to work on my cases I got a reputed human rights lawyer to take my two main cases.
In September I applied for two pharmaceutical drug trial studies (Charité Research Organisation), with the intention to earn some money for my lawsuits. I was rejected (depression diagnoses). Only later they found out about my identity.
In October I started a series of trespasses on the station where I was almost tortured to death 5 years earlier. On the first day it took three hours until the police arrived. I assume they first had to held a crisis conference to discuss their strategy. The first days they tried the "good cop"-strategy, the hospital staff also tried to appease me without success.
Then they changed to a "bad cop"-strategy. Not appreciating this unfriendly treatment I immediately returned after being led outside. Two police officers returned, one short fat officer beat me up not knowing about my hidden camera.
The next day the police was apologetic and promised a written apology for this incident, which turned out to be another false promise.
On the 7th day some suspected my hidden camera. The next day I was strip-searched and roughly handled. Being stubborn I returned anyway. This time a young officer threw me to the ground and dragged me on my lag outside. When I returned a third time a bunch of police officers showed up and yelled at me threatening with arrest. Noticing my intention to trespass this day for a fourth time, I had a civil talk with a couple of them.
After almost two weeks they are declaring to take me into custody if I kept trespassing. After I returned the next day anyway, the prosecuting attorney threatened to lock me up in the psychiatry. When I trespassed half an hour later again, they took me to jail and kept me in a cell for 12 hours.
It was intentional torture to put someone like myself off. Nothing but a wooden bench, 24 h bright light, no food or drink and no blanket as it got freezing cold. Before they released me as a pretense they offered me some bread and cheese I wouldn't eat.
I was content knowing this measure was very costly for the state. I was supposed to pay for it, I just ignored the bill.
When I asked the next days for file numbers so that my lawyer could apply for my police reports they embezzled twice the file number of the libel incident, which was another proof for police corruption.
I had told my lawyer about the Scientology manipulation as well as about the police violence and corruption. He didn't react to my e-mails, when I reached him on the phone he pretended not to have read my e-mails, because I couldn't express myself in three sentences. He was quite arrogant, I kind of lost my unconditional trust in him. It took him four months to start working on my lawsuit blaming his assistant for this delay.
I understood that any lawyer couldn't have acted without compromises in my interest.
Two weeks after my arrest I took up my trespasses again, ignoring any threats by the police. My archenemy the psychiatrist Dr. Sänger then lost his nerves. Instead of calling the police he ordered his security guys to kick me out violently, which was illegal, and gave me the opportunity to charge him for inciting bodily harm (I got a scratch wound). After that desperate attempt to get rid to me, I immediately returned by another entry to the station and they had to call the police anyway.
Just after I had started my series of trespasses the most obvious agent (a girl in her early twenties) was sent to me. On the first day after she befriended me on Facebook (for no apparent reasons) she posted an inspirational quote by my favorite comic (Calvin & Hobbes). From the first incident of police violence until I was arrested she posted daily police videos (11 altogether), also other content that was targeted to me.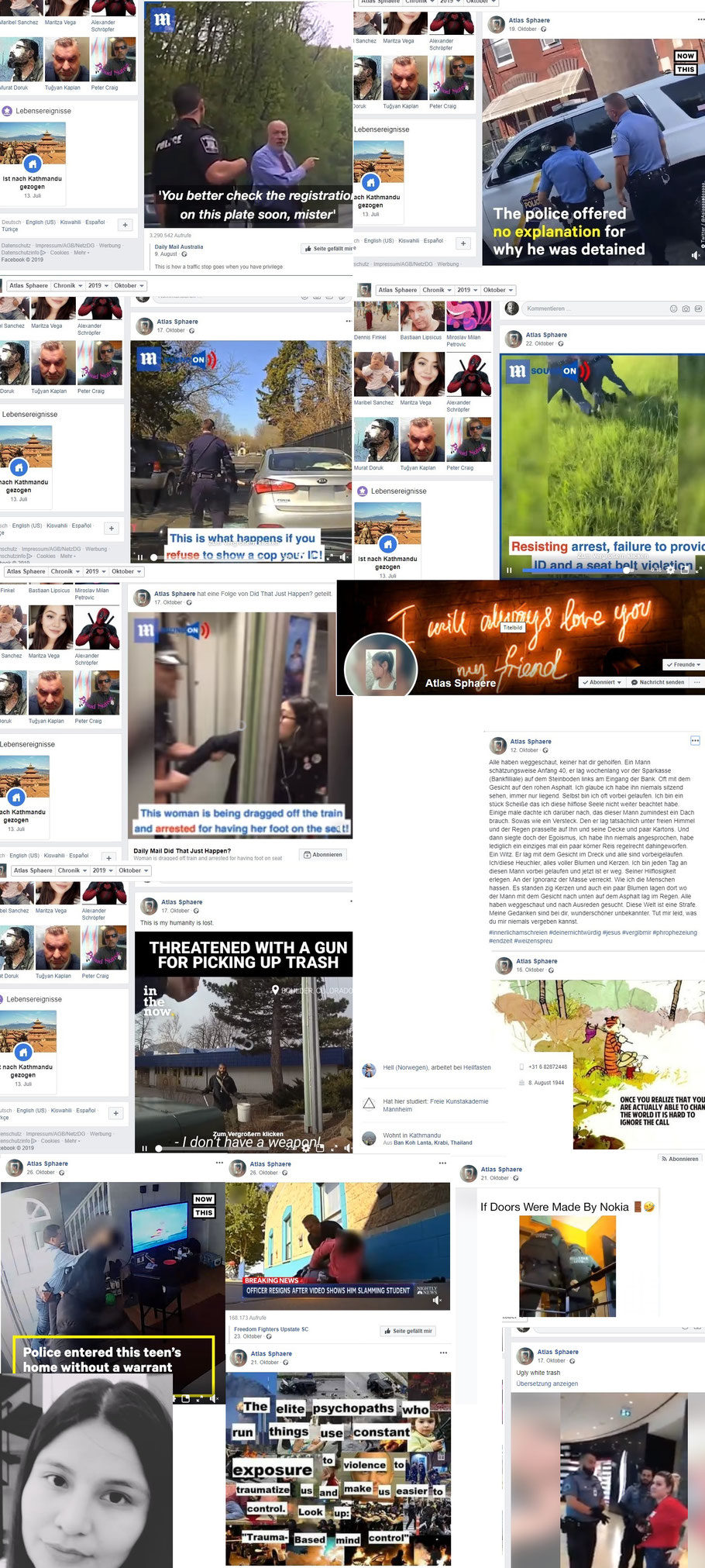 On the day in November when it seemed I would end my protest she changed her title image to "I will always love you my friend" (as a goodbye to her Facebook friends). On the day I wrote a letter to the police announcing I wouldn't trespass anymore she logged in for the last time.
I suppose I was meant to confide in her about my own police experiences. I really wonder how they could expect I wouldn't see through this scheme.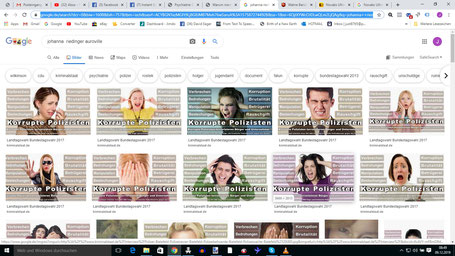 Another inexplicable psy-op played on me occurred at a google image search. With unrelated key words, the results showed up at least 20 images with a police corruption meme. They wanted to lead me to a website called kriminalstaat.de, where victims of state crimes were being interviewed. I supposed it was controlled opposition.
At the beginning of the year 2020, it became more and more obvious that I was hopelessly opposed to the medical mafia and that they wanted to stall me in my lawsuit until I gave up the fight.
Charité head physician Prof. Rose would certainly not have tried to persuade me to trust in the legal process if he had expected that the judiciary would allow an accusation of attempted murder against him and his colleagues.
A clerk at my social agency tried to convince me for 40 minutes that I would have no chance against doctors in court. And trespassing wouldn't bother the doctors, only, for example, if I damaged their cars. It was so obvious she'd been instructed.
In the alleged pandemic, the alliance between the state and doctors is also becoming apparent again. A scandal involving the colleagues of Charité virologist Drosten would be prevented at all costs.
I tried to get support from other sides without success. At the end of January I resumed my protests and was once taken into police custody. Under the extreme stress I became ill again, had no self-healing powers and could not eat anything. Finally I had a nervous breakdown and the feeling that I could not go on living like this.
Over the years I struggled a lot with the fact that back then my will had been broken with torture and emotional violence. You can't force-feed someone without a certain compliance. For this reason, I had been wishing for a renewed trial of strength with psychiatrists for a long time.
After I had not paid any fines last year, and had made it clear that even prison sentences would not deter me, I was threatened by the public prosecutor and a judge with forensics. Even at that time I had already made the plan to provoke a forced committal, which should not be that difficult.
I had told the police that I had no confidence in the legal system and that my last resort to get justice or at least a scandal would probably be a hunger strike.
A few months ago, the entire hospital management of the TWW was first replaced, and in anticipation that I would force a forced admission, my then psychiatrist Dr. Sänger was replaced by a new psychiatrist on the closed ward in February.

At the end of February I gave Dr. Sänger the opportunity to force admit me announcing an act of violence. On that day I spent almost 7 hours on the ward with my banner, without the police appearing. When I was about to leave in the afternoon, I noticed a police team at the entrance and returned to the ward. When I asked the young (anorexic) ward psychiatrist why the police would not pick me up, she said I could leave the clinic on my own, which I finally did, the police had disappeared.

The next day I went back to the ward and even talked to the psychiatrists about a running amok. Only after 5 ½ hours did two policemen appear, who accompanied me out, but only laughed at my threats.
The following day I told the young ward doctor that I found it quite irresponsible to simply ignore my threats. She and a nice policewoman agreed with me. For more than 1.5 hours the policemen phoned to get a forced admission, (I even agreed to a bed in the corridor), but without success. Only when I announced that I would bring a knife to the ward if necessary, did the senior psychiatrist Dr. Tinkloh decide to admit me to ward 4a. But they tried to convince me again and again that I would be there voluntarily, I refused to sign a declaration of course. I announced that I would neither eat nor drink.
During the admission interview with the anorectic doctor (I wonder if a Greek anorexic was hired as a de-escalation strategy, it is known that I prefer the southern mentality) I actually wanted to get a diagnosis for my "conspiracy theories" and said "the system" would be watching me. She wrote something about "obsession madness and paranoia", but Dr. Berg did not adopt this, because he knew that this matched reality.
The first evening I had a longer conversation with Dr. Tinkloh. I couldn't be transferred to forensics until the next day. And without food and fluids I would be transferred to an intensive care unit by the third day at the latest, where coercive measures such as fixation would be applied. Later it turned out that neither Forensics nor an intensive care unit was willing to take me over and I had to stay on ward 4a, in the same room where I was fixed with a stomach tube 5 years ago (which was no coincidence).
On Monday (day 3) I met the new psychiatrist Dr. Berg, a typical psychiatrist with a Janus face, whom one could almost consider sympathetic at first sight. He would not protect criminal colleagues, he would even be so dedicated to demonstrate with signs. Later, however, it turned out that he was a conceited, manipulative narcissist who photoshopped his photos, and helped to cover up the crime like everyone else.
He tried to get me to stay on the ward as a volunteer patient. When I was about to leave, he made a phone call to the police and told me I had to stay by force. He also talked about the intensive care unit and said that there were really only two options, letting me die or force-feeding me. The possibility of simply paying me a recompensation for my damages was never an option.
A woman from the Psychiatric Social Service came to see me. She first tried to convince me that I was incapable of violence. She wanted to know if I had a gun. I said I had a sword (this sword was later confiscated by the police, although with a broken handle and blunt edge it was totally useless as a weapon). She tried to convince me that my protest was illogical, and I said that I was quite logical myself, unlike most women. She thought I was highly personality disordered (a narcissist), if only because I believed I had a unique clinical picture. She applied for a six-week stay and three days later she was the only one who opposed my premature release.
I didn't even have any podcasts to listen to, I wanted to push my protest a bit. I knew that they couldn't keep me in restraints for very long and the doctors wanted to avoid it. When I removed a couple of light switches, Dr. Berg said that with such dysfunctional behavior, he would cut off communication. Only when I also took out a fluorescent tube, they were forced to put me in a 5-point fixation. A few hours later, however, I was freed again and I received 1-to-1 care, and in the following days I saved myself from further actions. That evening Judge Lomb arrived, who back then had blindly approved the force-feeding. Although he knew that I had been granted legal aid, he pretended to believe that the force-feeding had helped me a little, that my account was probably somewhat insane, that the judiciary was not corrupt either, because he had never accepted money. He also talked about the fact that if necessary, force-feeding would be ordered. When I pointed out to him that force-feeding, at least of mentally healthy people, violated the Geneva Conventions on Human Rights, he argued that I was not mentally healthy, but personality disordered. Well, I should have said "capable of judgement". Strangely enough, he wrote in his resolution that I was self-endangering, not endangering others!
On the fourth day my mother came by when there was a visit to Dr. Berg. He was too busy to look at the files from my previous stay. He put it this way, that I would "blackmail" the clinic with my hunger strike, thereby swapping victim and perpetrator roles. In the end when I left the room angry with my mother, he still said I was threatening to murder Dr. Sänger AND run amok afterwards, which was an insinuation, as if I were simply killing innocent people. Then my mother slipped out, "But he only said that ...". This statement was the reason for my release two days later. My threats would only be an expression of my personality disorders, I would be totally harmless. Of course, it was obvious that someone who really intended to commit violence would not announce it. When I correctly stated that I would of course not harm innocent people, Dr. Berg in the letter of discharge, put it as if I would not harm anyone, even though until the end I did announce acts of violence at least against Dr. Sänger. He also wrote that my anorexia was not in the foreground, even though I didn't eat a single bite during the stay!
Dr. Opitz (who, as I have been told, misappropriates patient allowance) came up with a ridiculous therapy contract. The therapy agreement was to eat, drink, and not riot.
On the 5th day my fantasies for watermelons, coconut water and juicy fruits became very debauched As Dr. Berg and Dr. When Tinkloh came to the ward round, they were talking in front of the door for me to hear that (as in 2014) I should be transferred to the other ward if I was force-fed. It was just scaremongering, and it assumed that I would drink the formula drinks compliantly again.
On the 6th day, I told Dr. Opitz  that it was okay for me to die, and he and Dr. Berg would not get in trouble because the dilemma of impossible force-feeding would be obvious. Even though it was more likely that my threats were only related to my personality disorders and I would not make them true, I should not have been released, of course, as there was a residual risk.
My willingness to die caused the doctors to fire me. Although I resisted and threatened with a killing spree, the police were called to drag me barefoot in a thin shirt outside the clinic (my father had taken all my clothes, my shoes got stolen by the staff). The files said that I was offered transportation, which is not true.  Just when I was sitting in front of the clinic with the police, it was arranged that my former therapist came out of the door, in order to demoralize me. They wanted to show me that even the "nice" therapists and doctors I trusted at the time participated in the crime. 
The police called the fire brigade to take me home and let me sit in the cold outside the clinic, in a condition in which I should have been transferred to an intensive care unit long ago. Of course I went back to the clinic and was approached very aggressively by two nurses and the ward nurse in the open psychiatric ward. When I tried to drink from a bottle, the nurses brutally threw me on the floor and held me there until the police came, who drove me home this time.
In the following weeks I got sick, of course, couldn't eat, my flu symptoms didn't go away. I did not have the option of crisis intervention because I was blacklisted. A nice doctor in the Charité  actually wanted to take me in after I was tested for the corona-virus, which was then prevented by the doctors I'm accusing of attempted euthanasia.
After I was not admitted to other clinics and I felt extremely bad, I returned to the Charité, where I had a conversation with the two leading physicians. Rose was so worried about me that he didn't want to talk about the medical malpractice, but my personality disorders. Since he was unable to get me a hospital place elsewhere and I announced that I would not accept the blacklist, he inevitably assured me of a crisis intervention in Charité psychiatry because the senior doctor there was a specialist in personality disorders.
I immediately requested access to the file, but received no response from my email from the secretariat. When a policeman asked for me, it came out that for "internal reasons" I would be refused access to the files. That day, because the police also refused to apologize for police violence, I was provoked to commit three more trespasses. The third time the police drove me deep into the forest, from where I had to walk back. I also announced that I would carry knives with me again as a provocation. In the afternoon I happened to meet Dr. Berg in the corridor, who then acted rather cowardly, as if, of course, I had the right to inspect the files, the files only had to be checked carefully because they would end up on my website. It took four weeks until I received the (incomplete) files.
The next morning, at half past eight, when I broke the trespass again, I was taken into police custody without warning. This time I was supposed to be jailed for two days as a deterrent, without food, since there was only crispbread, cheese and 5-minute terrines. I slept badly and time went extremely slowly. When I was released, I felt very weak, but I was given a green police sweater as a present.
Because I could not be locked up in the long term, the judge couldn't write about my concrete threats of violence. Probably a reason why I was not brought before a judge a week later.
In the Charité I also committed a series of trespasses, the entrances were guarded there, but I managed to get to station 34 few times. The nurses I knew who were still working there were of course in total denial of the doctors' crimes.
When I casually asked about corona patients in the TWW, the doctors had a brilliant idea. The next day, while I was sitting with my banner in front of the nurses' room, nursing director Mattes came over "by chance" to discuss with the nurses (audible for me) that corona patients are being admitted to all wards - in the hope that I would keep away for fear of the virus in future.
Two days later, a young psychiatrist was sent to tell me that he had been reading a lot of antipsychiatry literature and that he would have become a psychiatrist to change psychiatry from the inside. But he doesn't think anything would change through (my) protest.
At the beginning of April, I was taken into police custody for a fourth time. This time I slept better and was not even shown to a judge, but released in the morning.
When I returned to the psychiatry in the afternoon, a special police squad appeared, I was led handcuffed me out, and said I would be detained again for two days. They just wanted to scare me. The protest banner was confiscated and a speech was given that I had an indefinite expulsion order and would be taken into custody for two days if I would violate it.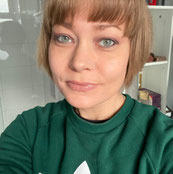 In May posted the article What's really behind eating disorders? In some Facebook groups. An English woman contacted me with an interview request. In the following days we had some chats. She also believed in conspiracies and had (justified) paranoia about governments spying on us (e.g. ZOOM). I told her that in the past agents have been sent to me. I suggested she might be a "honey-trap" for me. She replied she could not possibly be, as she was very chaste.
I said, that's exactly how a honey-trap customized for me would be like.
She had commented on my post what was mirroring my opinions on psychiatry and Scientology (she was very opposed to both), so of course I assumed she read my story on my website. Later she claimed she didn't know about my website and knew nothing about my story. Why would she interview me then?
When I wrote I still would give it a 0.3% chance she was an agent, she got upset, it wouldn't work, she couldn't deal with my paranoia, believing agents are being sent to me. In the end it was just over the top, sounding more like a bad script from a soap opera. She put it like I was stalking her, and how dare I "question her sexual integrity". I had never doubted her rejection of sexual intercourse outside a marriage, I just couldn't rule out she was an agent.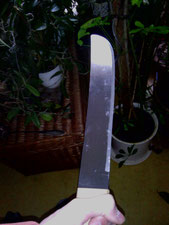 After the police came to my apartment to confiscate a broken machete, I immediately bought a new one (for coconuts). However, the police were so inconsistent not to search my apartment, when I told them.